Hair transplant with FUE technique
Hair transplant is the BEST solution for patients with baldness. Not only that it is safe, but it is also natural and permanent. A hair transplant is a minor surgery in which all critical steps will be performed by Dr Pukpinya Jangjetriew and assisted by her nurses and technicians.
The concept of hair transplant is to move hair follicles from the donor area (usually at the back of the head) and transplant them back to the recipient site (bald or thinning area). The procedure will take around 7-10 hours depending on the difficulty of each case.
FUE hair transplant is currently a popular technique, especially in hair clinics in Bangkok, due to the minimal scars and recovery time. It is a technique where follicular units are extracted one by one. Hair transplants can be used for various problems such as androgenetic alopecia, eyebrow loss, beard/moustache loss, and scars.
Hair transplant in Thailand has become more and more popular amongst foreigners from all over the world because of the attractive pricing and services. Thailand is known as a hub of cosmetics surgery in South East Asia. So, there's no doubt that Thailand, especially Bangkok, would be a destination for people that needs a hair transplant too.
Hairtran Clinic is another hair transplant facility in Thailand that has international clients from all around the world. Dr Pukpinya and our staff are fluent in English and have many years of experience working with foreign clients. We also have in-depth knowledge and hands-on experience with both Caucasian hair and Asian Hair.
FUE Hair Transplant Method Step by Step
1.) The surgeon draws the recipient area, measures grafts required for hair transplant and shaves the donor area. The patients will take pain killers, antibiotics and mild sleeping pills before the surgery. Photos will be taken before and after the hairline is drawn. The recipient area(s) will then be injected with local anaesthesia, this is the only painful step.
Read more: How do we make a natural hairline?
2.) The surgeon performs graft excisions with WAW FUE SYSTEM. This tool decreases the trauma that could happen to the hair follicles, and it is as good as ARTAS robotic system. The assistances will, then, harvest hair grafts and put them into the holding solution to preserve the quality of the hair grafts while they are outside the patient's body.
3.) Hair grafts will be dissected and screened under the microscope for healthy and intact follicles. Only healthy grafts will be used for implantation. Unhealthy grafts will not be used as new hair will not grow in it and could result in bald patches.
4.) The surgeon implants healthy grafts on the recipient site that has been discussed with the patient. This will be done using Implanter Pen (also known as DHI technique or DHI hair transplant) which is another device to help protect hair grafts from getting injured by the procedure. This will significantly increase the rate of survival to patient's hair grafts.
Read more: Is the DHI technique better than the FUE technique?
Hair growth after FUE hair transplant
Let's see the transformation
In the first 14 days after a hair transplant, hair follicles will be in a weak stage and should be taken care of very well.
2 weeks after a hair transplant – scabs will start to fall out and transplanted hair might fall out too. The follicles will already be in place by the 14th day.
3 months after a hair transplant – you will see 10% of the result at this time point. The growth can be sparse and thin at this time point.
6 months after a hair transplant – you will see 50% of the result at this time point. Even though all the hair has already grown out, the hair shaft can still be thin at this time point.
12-18 months after a hair transplant – you will see the full result at this time point.
Read more: Post-op care overview
Advantages of FUE hair transplant technique
Fast recovery and no big wound
Small wound (0.8-1 mm wide)
more than 90% survival rate
High density
Fast recovery
Minimal pain
Minimal scars
Less bleeding
Natural look
No swelling
No stitches
Other than that, recovery and aftercare prior to an FUE hair transplant Bangkok is simple and easier than you think. You can live your normal life, go to work, eat, and shop as usual. You can get any haircut you like, without having to worry whether the scars will show or not. Hair transplant Thailand is the most popular destination for tourists, you can even travel after a transplant because you will heal super fast!
When to start considering about hair transplantation?
Before coming to a hair transplant clinic for a consultation with the doctor, you might have already observed some hair loss for a while. Most hair loss, hair thinning, and baldness is caused by our genes which gets passed down from generation to generation, this type of hair loss is known as androgenetic alopecia.
In male, Hamilton-Norwood Scale is used to assess the severity of male hair loss pattern. There are 7 stages in this scale starting from no significant hair loss to the point where all the hair on top and on the crown area is gone. In female, on the other hand, Ludwig Scale is commonly used to classify the severity of female hair loss.
Once you feel like your scalp is starting to show and there is no hair left in that area, that is when you start considering hair transplantation. However, if you still have some hair in that area, even though it is very thin, you still have a chance to reverse those thin hair to a thicker one without the need of hair transplant surgery. The doctor might suggest you to start with medicines for hair growth or other adjuvant treatments to make your hair become healthier.
Read more: Where is the best clinic to get a hair transplant?
If you feel like you need a hair transplant, the first thing to do is to get an initial evaluation from the surgeon. At Hairtran Clinic, our surgeon will measure the area for hair transplant according to your face proportion and adjust as needed before the hair graft calculation is done. Normally, the donor hair should be enough for the first or second FUE hair transplant. However, if baldness is very advanced, you will have to discuss with the doctor about hair management, expectations, and future plans for your hair.
If you live overseas, an in-person consultation at a hair clinic in Bangkok might seem difficult for you. At Hairtran Clinic, we can arrange a video call for those who cannot be at the clinic for an in-person for a consultation. All our consultations and check-ups are free of charge!
Read more: Graft estimation process
FAQ: Is it okay to get a hair transplant in Bangkok if I don't speak Thai?
Of course! Our surgeon and staff are fluent in English. So, you won't have to worry about the language barrier at all.
FAQ: How long should I stay in Bangkok after a hair transplant if I live overseas?
For an FUE hair transplant with the DHI technique, the recovery period is quite short. You should stay in Bangkok for at least 3-5 days after a hair transplant to make sure the recovery is well before you leave. All the check-ups, including additional check-ups, after a hair transplant with us, will be free of charge.
FAQ: Do I need someone to accompany me for a hair transplant in Bangkok?
No, you don't. You can travel alone especially when you are in Bangkok. You can get a taxi, or motorcycle taxi, or catch a BTS Skytrain (Ekkamai station) to our clinic. You will be fully conscious and will not be dizzy after the surgery. A hair transplant in Bangkok is EASY!
FAQ: What's the benefit of doing a hair transplant in Thailand compared to other countries?
Not only that the cost of a hair transplant be cheaper but you will also get to travel, fully rested, and experience Thailand all in one go! There are no restrictions on food. So, please go ahead and try all the delicious Thai food you like. You don't have to worry about follow-ups because all of that can be done online and we have adapted our procedure to suit hair transplant clients that live overseas.
Would the transplanted hair last forever?
In theory, yes. The surgeon will extract the hair from the safe donor area that is known to be permanent. In men, this area locates on the back and side of their heads. In women, however, the hair loss pattern is different and it is possible that there will be no area for permanent hair. For surgery and cosmetics purposes, the surgeon will extract the hair from the back of the head, anyway. The surgeon will have to make sure that their hair loss is no longer active, otherwise, the patient will just keep on losing their hair even after a hair transplant surgery. This is why the maintenance of the hair is very crucial after a hair transplant. Medicines for hair loss are the key to maintaining your native hair. You can mostly buy them over the counter in the pharmacy or hair clinics in Bangkok and all over Thailand. However, if you live overseas, prescriptions are required to purchase the medicines.
Read more:  How long does a transplanted hair last?
How to prepare yourself and what do you need to know before the operation?
Once you have decided to get a hair transplant done. There might be a few things you have to do or "not do"  so that your body is ready for a hair transplant operation. Here are a few main things;
No smoking or alcohol 1-2 weeks before the surgery
Stop blood-thinning medicine or supplements 1-2 weeks before the surgery
Have a good sleep the night before the surgery
No coffee or tea on the surgery day
Eat before the surgery
Make sure your hair cut and hair colour is appropriate prior to the surgery (as recommended by the doctor)
You should also note that you will not be able to get a haircut or exercise for 2 weeks AFTER the operation. You also cannot swim for a month AFTER the operation. So, if you are planning to go on a trip or a vacation, we suggest you do so before you go ahead with the hair transplant surgery.
How can you be sure that you will get a natural hairline?
There are a few points to focus on for a natural result.
High hair graft survival rate – It is true that nothing in the medical field is 100%. However, more than 90% of the transplanted hair should survive. The survival rate of hair graft will depend on both the surgeon and the client themselves. The surgeon has to make sure that all the protocols, procedures (FUE with DHI hair transplant for all cases), devices (implanter pens and WAW FUE SYSTEM), and operation teams are up to standard for a good hair transplant surgery. On the other hand, the client also has to look after the transplanted hair very well and stay healthy in order to get good healing and good hair growth.
Hair density – Normally, the optimal density for a hair transplant is at 40-45 hair grafts per square centimetre, but the density will also depend on the severity of baldness, the client's opinion, and the surgeon's opinion. Very high density might not always mean better results. If the surgeon decides to implant the hair with very high density, the hair might not grow well because the blood supply won't be enough for all the hair grafts to heal. However, if the hair graft density is too low, the scalp coverage will be poor and you might have to get another hair transplant done in the same area.
Hair direction – The transplanted hair should follow the native hair direction
The irregularity of the hairline – The hairline shouldn't be straight across the forehead but should be some up's and down's on the hairline as well.
Hair transplants with Dr Pukpinya will be VERY PERSONALISED. Your hairline will depend on your age, facial proportion, skull shape, muscle insertion, hair loss progression, hair loss rate, family history, ability to respond to the medicine, etc.
Read more: How to make a natural hairline?
Even more before and after photos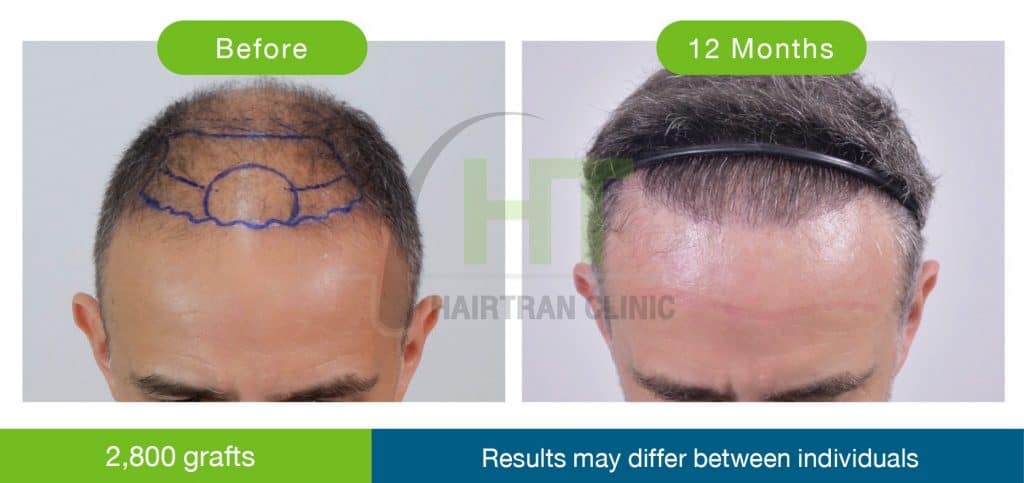 Dr Pukpinya Jangjetriew (Dr Patty)
Our main surgeon at Hairtran Clinic
With her 10+ years of professional experience and global standard training in the United States, Turkey, Malaysia, and South Korea. She is also a full member of the International Society of Hair Restoration Surgery (ISHRS) and the Asian Association of Hair Restoration Surgeons (AAHRS). She will be the person to make sure you get the best result from a hair transplant and walk out of our clinic with satisfaction and a head full of hair.